10 Easy Christmas Crafts For Kids
Christmas is a time to eat, drink and be merry – not to chase after sticky-fingered kids. To help keep them out of trouble (and out of your hair) over the festive season, check out our 10 favourite easy Christmas crafts for kids.
1. Salt Dough Christmas Tree Ornaments

Image & tutorial at Wholefully.
This should be number one on any parent's or grandparent's list! Here's the deal: you make the dough, they make the shapes. It's easiest with cookie cutters, but don't be afraid to let the kids freestyle. They'll love hanging them on the tree when they're baked!
2. Snow Slime
Image & tutorial at No Time For Flashcards.
Slime has been a big school trend for a while now, and it's showing no signs of slowing down! Christmas themed slime is sure to be a big hit with your little ones. This snowy slime is ideal for hours of gungy fun. Store in one of these jars to keep it ready for next time, too!
3. Cute Snow Globes
Image & tutorial at Crazy Little Projects.
These snow globes are so cute you'll want to display them year after year. Use small jars and figurines to make a simple snow globe. This is definitely a craft where adult supervision is required – glue guns at the ready – but it's great for teaching kids to measure out ingredients. Buy small glass jars for your project here!
4. No-Sew Sock Snowman
Image & tutorial at Easy Peasy & Fun.
Make an adorable snowman without going anywhere near a sewing machine! You'll find most of the things you need in your cupboards at home, so this craft can be easily cobbled together on an unexpected rainy day.
5. DIY Hot Chocolate Kit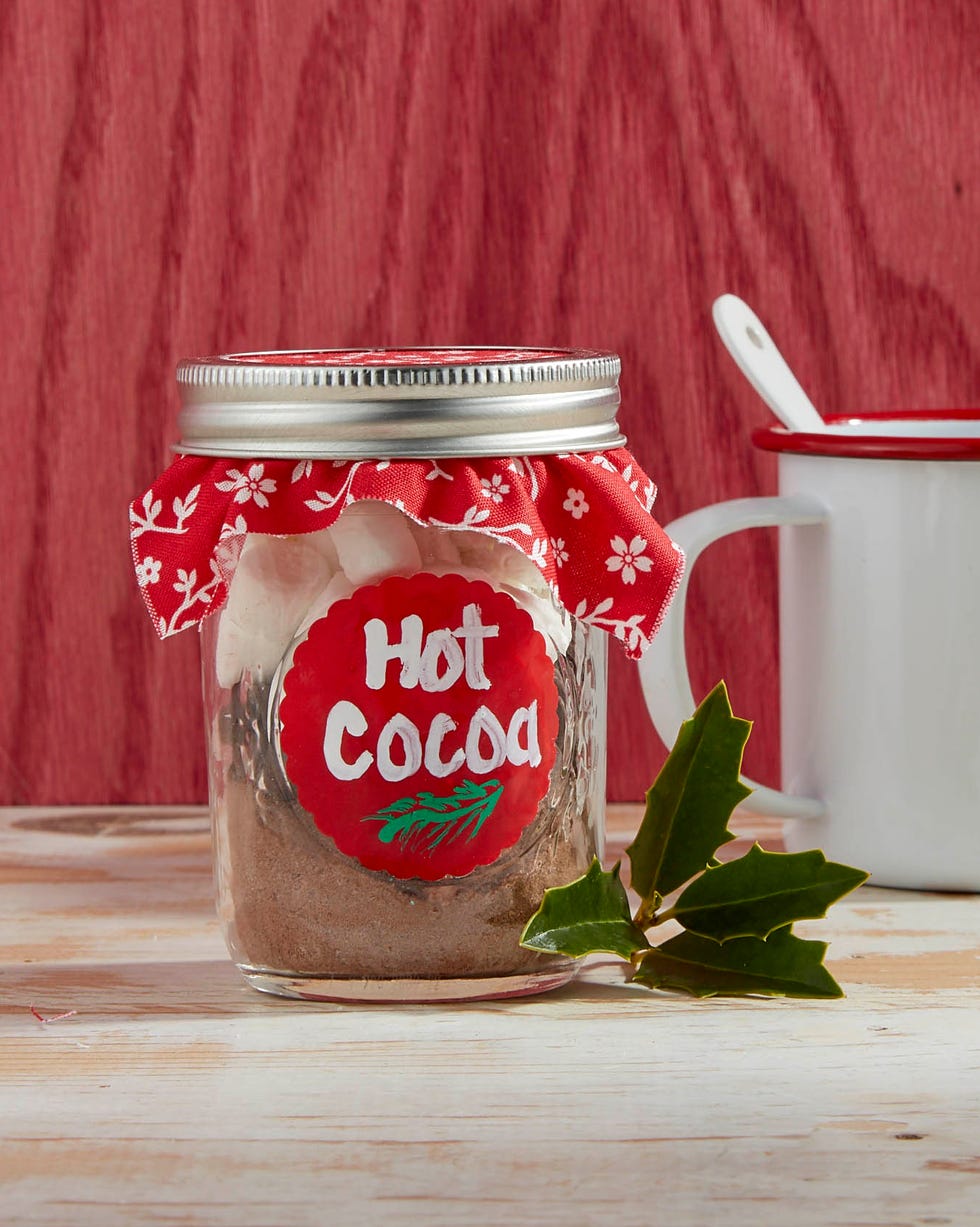 Image & tutorial at Country Living.
The kids will love this craft idea for lots of reasons, but mainly because it gives them an excuse to have something chocolatey. This tutorial offers a simple design that you can paint on the jar, but it might be more fun to let the kids choose and paint their own design. Find budget glass jars for your DIY hot choc here.
6. Santa & Reindeer Stick Puppets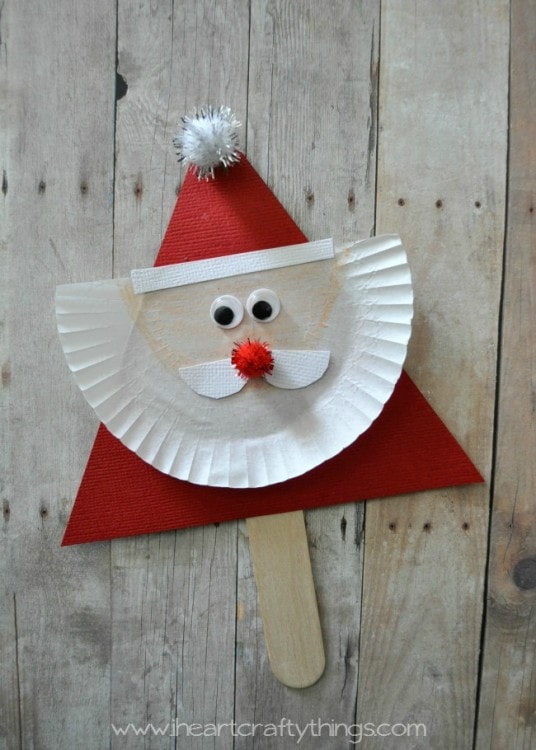 Image & tutorial at Bloglovin.
What's an easy Christmas crafts for kids list without a lolly stick craft? Help your kids put on their very own Santa and Rudolph puppet show with this fun, simple tutorial. As well as keeping them occupied, it's a great way to encourage them to create their own festive stories.
7. Beaded Candy Canes
Image & tutorial at Fountain Avenue Kitchen.
This idea is best suited to children who are a little older, as it calls for small beads which can be risky in the hands of little ones. Older children will also find it easier to thread them onto the pipe cleaners when they're making these fantastic decorative candy canes!
8. Christmas Candy Jars
Image & tutorial at Crazy Little Projects.
Make Christmas confectionery extra festive in these cute treat jars. Choose from three festive designs: Father Christmas, Rudolph, or a snowman! There's a lot of glitter needed for this one, so be prepared to find it all over the house until the new year. Shop for jars here!
9. Pinecone Reindeer
Image & tutorial at Kids' Craft Room.
Part of the fun of this craft is foraging for materials. Head out in late autumn and find fallen pinecones to turn into goofy reindeer heads. You'll be pleasantly surprised with what pinecones, pipe cleaners and festive fabrics can achieve!
10. Handprint Wreath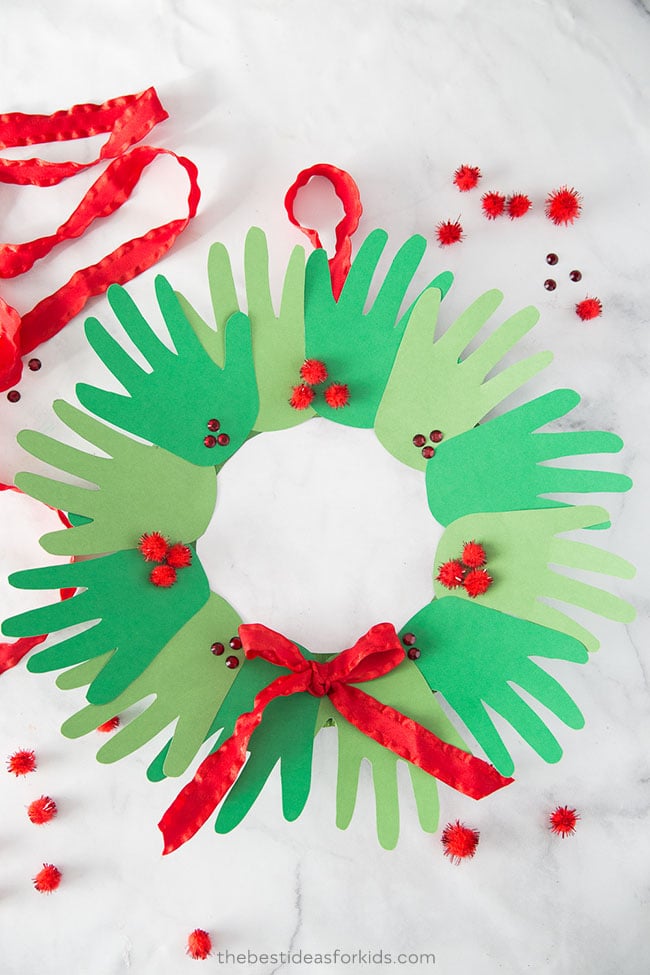 Image & tutorial at The Best Ideas For Kids.
A gorgeous gift for grandparents, this handprint wreath is a great way to spend an afternoon indoors. Get siblings to draw around one another's hands to encourage teamwork! Cut out and embellish with pretty craft jewels and ribbon.
Every Christmas with children demands new and exciting craft ideas, so tell us your favourite easy Christmas crafts for kids over on social media! Follow us on Twitter for more fab #craftspiration.
For more Christmas craft ideas, check out our 10 DIY Christmas ornaments to make this year.