10 Spooky Halloween Craft Ideas
Halloween is probably going to be a little different in 2020 – but that's no excuse not to give your home a ghoulish glow with some devilish decor! Whether you're planning a fun evening for the whole family, or a cosy-creepy vibe just for you, take a look at these 10 spooky Halloween craft ideas.
1. Halloween Scene Lanterns
Your neighbourhood trick-or-treaters are sure to be wowed by these gorgeous intricate Halloween scene lanterns. The tutorial offers a variety of techniques to achieve this hyper-effective lantern – test out a few and see what works for you! You can reuse old glass jars for this project, or make it even easier with shiny new ones in the size you choose. No fiddly label removals necessary.
Image & tutorial at Adventure In A Box.
2. Pumpkin-Free Jack O'Lanterns
Want that kooky carved-pumpkin effect, but with none of the mess that comes with it? These adorable Jack O'Lantern-style, er, lanterns are a fun freaky alternative. This tutorial is child-friendly – you just need a clean jam jar, tissue paper, glue, black paper & a tealight. (We suggest using LED tealights as an extra safety measure.) Have fun creating a whole host of scary faces for your lanterns!
Image & tutorial at Red Ted Art.
3. Halloween Themed Candles
Make your own spooky candles! This tutorial is super easy, and the finished product is super cute. Create a ghoulish ghost, petrifying pumpkin or freaky Frankenstein's monster with a few glass votives and some candle-making supplies. This is an ideal Halloween craft idea if you don't go all out on Halloween – it's a great way to add a glimmer of ghoulishness, without going the whole hog!
Image & tutorial at The Crafting Chicks.
4. Stylish Pumpkin-Style Mason Jars
This Halloween craft idea is less scary, more stylish. Use premium-look mason jars (like these Le Parfait Verrine jars) as the basis for these pumpkin-esque containers. You'll also need acrylic or spray paint in yellow or orange, wood pegs and card in autumnal colours. These jars offer a cute way to store sweet treats for trick-or-treaters (or, y'know, just for you). Alternatively use them as a centrepiece for your Halloween feast!
Image & tutorial at The 36th Avenue.
5. Spooky Spider Jars
Why make traditional Halloween lanterns when you could make these scary spider jars? They're sure to give people that creepy-crawly feeling – so they're perfect for a festive family Halloween! You'll need jam jars, fake plastic spiders, fake spiderwebs or cotton wool, black nail varnish & LED tealights for this Halloween craft idea.
Image & tutorial at Mom Dot.
6. Silhouette Wine Bottles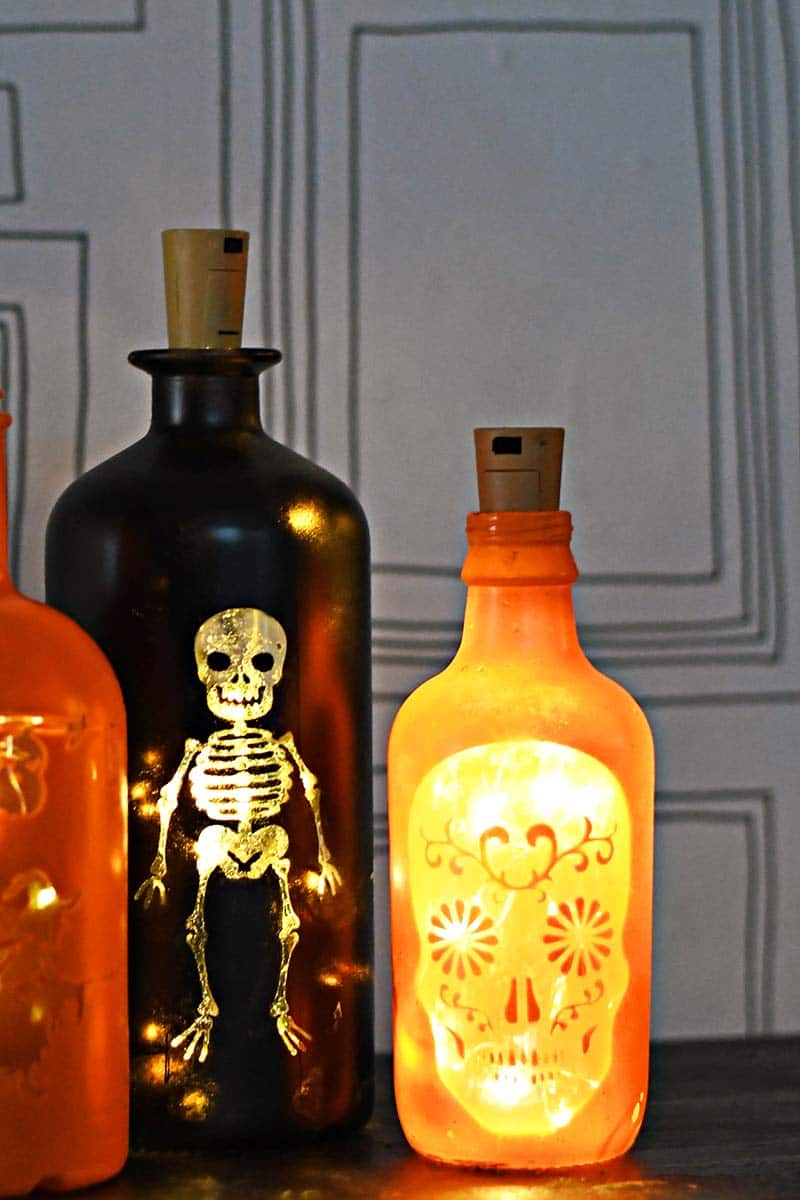 Get inventive with your designs on these awesome silhouette bottles! Use clear glass bottles for best results (you can soak the labels off used bottles, or buy them new and save yourself a job). You'll also need Halloween stickers to create the silhouettes, black spray paint, and some miniature fairy lights. These are another fantastic option for table centrepieces, or window displays to spook approaching trick-or-treaters!
Image & tutorial at Pillar Box Blue.
7. Witches' Potion Bottles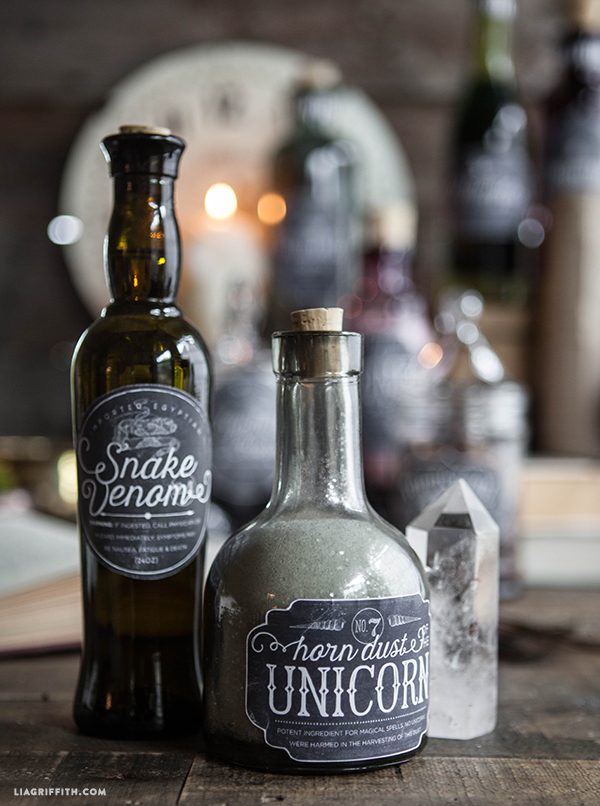 These eerie bottles are the perfect accompaniment for any witches in the house this Halloween. The tutorial provides free printouts for your bottles – choose from a plethora of potion ingredients, including bone powder, tarantula legs and snake venom. You can stick these labels to bottles you already have, or pair with these apothecary bottles for an added creepy touch!
Image & tutorial at World Label.
8. Ghost Lanterns
Go all Casper this Halloween with these cute friendly ghost lanterns. The trick to these jars is to graze them with sandpaper after they've been painted, giving them a distressed ghoulish look. These cute lanterns work both with and without tealights. If you fancy using them without, you can use them to store wrapped sweets ready for trick-or-treaters! Get glass jars in a range of sizes for your Halloween craft ideas here.
Image & tutorial at Old Salt Farm.
9. Mummy Wine Bottle
This tutorial is super easy. Stick a pair of googly eyes on a wine bottle, then wrap it up with masking tape. That's it! It makes a fantastic Halloween gift, if that's your schtick – if not, you can even use an empty wine bottle and create this creepy mummy purely for the decorative effect. If you're making these with the kids and want a shatterproof bottle, you can get plastic wine bottles here.
Image & tutorial at Driftbound.
10. Bloody Halloween Candles
Glass wine bottles are a must here, and so are lit candles, so this isn't one for the kids. However, they're sure to love the creepy effect of these wine bottle candles, which seem to just drip blood! Best of all, these are very easy and cheap to make. You'll need red taper candles, wine bottles, matches… and that's it! These super effective candle holders will hold your leftover candles when you've finished.
Image & tutorial at Alana Jones-Mann.
At Ideon, we love Halloween – there are a ton of crafts just waiting to be made! If you decide to give any of these Halloween craft ideas a go, please share snaps of your finished projects with us on Twitter or Facebook. We love to see them!
Happy Halloween!